Star Trek: ENT 2×12 – The Catwalk – TAFM 039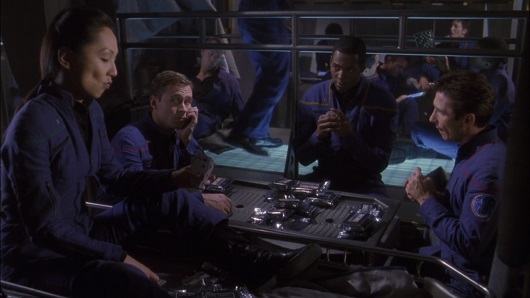 The Catwalk ended up being a pretty good Enterprise episode! The neutronic storm gives us some stellar phenomena for the crew to interact with, which is always fun. And there were a number of "Oh crap" moments that were very satisfying.  We ended up a bit disappointed and perhaps confused that the writers established the Takret as thoroughly as they did, especially the leader of the Takret Militia we met.. but then we never see the character again. Bummer.
We're operating with a skeleton crew for this week's episode as both Josh and Chris are out.
Star Trek: Enterprise 02×12 – The Catwalk
Directed by Mike Vejar
Written by Mike Sussman & Phyllis Strong
Guest Stars: Scott Burkholder, Zach Grenier, Danny Goldring, Aaron Lustig
There Are Four Mics is a weekly Star Trek podcast discussing the Star Trek episodes and movies in stardate order. Join Jason Allen, and Joe Heiser as we discuss the 12th episode of season two of Star Trek: Enterprise, The Catwalk.
Subscribe, rate, and review us on iTunes and Stitcher!
Music credits:
Faith of the Heart/Where My Heart Will Take Me – Written by Diane Warren, performed by Russell Watson, Jerry Lubbock, and the New York Trek Orchestra
Archer's Theme – Dennis McCarthy and New York Trek Orchestra