There Are Four Mics:
A Podcast Studio Equipment List
Curious about our podcast equipment? What software we use? Special plugins or workflows? We've put together a list of everything we do below!
These are affiliate links and we'd really appreciate it if you buy your items through them. It'll help us offset the cost of operating our podcast and web hosting and allow us to upgrade and improve our show.
We've included whether we, in our personal experience, would recommend the item.
This list is a work and progress and I'll update it as I'm able.
Microphone Set Up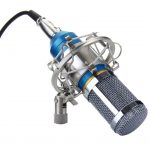 Floureon BM-800 Condenser Studio Recording Microphone and Shock Mount Holder Blue

We all use this microphone and it's been pretty fantastic so far. For a bunch of rookie podcasters, the cost to quality ratio cannot be beat. It's also pretty as heck. Keep in mind that this is a condenser microphone, so it does require phantom power. The mixer we use provides that.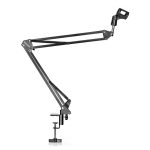 Neewer Microphone Suspension Boom Scissor Arm Stand
(17.99)
We're all using this boom arm and–Well. It's ok. It can't hold much weight, so don't expect it hold up a Blue Yeti or anything, and overall its a bit flimsy feeling. You probably shouldn't be fiddling with your mic much while recording a podcast anyway, so it hasn't been much of an issue. It get's the job done, but I might suggest looking elsewhere if you're looking for long term use.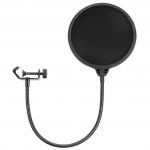 Neewer NW(B-3) 6 inch Studio Microphone Mic Round Shape Wind Pop Filter Mask Shield with Stand Clip
As far as cheap pop filters go, this is pretty good. The flexible arm has difficulty holding the angle sometimes, and the clip just barely manages to grasp the Neewer boom arm we're using. I've taken to fastening it to the XLR cable on my mic and that's worked a bit better.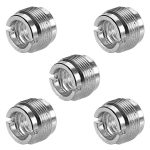 Neewer 40086775 5/8-Inch Male to 3/8-Inch Female Silver Microphone Stainless Steel Screw Adapters, Pack of 5
Not strictly necessary, but the shock mount included with the BM-800 uses plastic threads when connecting to the boom arm. Plastic threads give me the willies, so I opted to buy this pack of metal replacement threads. I'm convinced it's more secure, but that's up to you.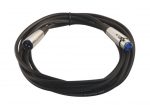 Your Cable Store 15 Foot XLR 3 Pin Male / Female Microphone Cable
The Floureon BM-800 described above doesn't include a standard XLR cable, and instead includes an XLR to 3.55 mm headphone jack. Which wasn't much use to me. 15 feet of cable is a bit excessive for my needs, but given the option I'd much rather coil up excess cable instead of stepping over extremely taught cables suspended at knee height.
Mixer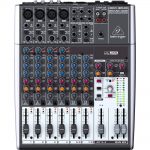 Behringer Xenyx 1204USB
(149.99)
Not a multitrack mixer. Not a multitrack mixer. Not a multitrack mixer.
Don't make the same mistake I made and assume that because it's got all those nice XLR inputs and touts 12 inputs overall, that you'll be getting separate tracks. You will not. Everything is blended into a single stereo channel.
Supposedly you can toy with it a bit to achieve the same results as a multitrack mixer, but I haven't been able to pull it off.
Other than the lack of multitrack recording, I highly recommend picking up this mixer. It's got a lot of great features and allows for quite a lot of flexibility. This connects to your computer through USB, and so set up is super easy.
Headphone Set Up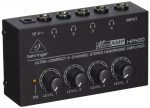 Behringer Microamp Ha400 Ultra-Compact 4-Channel Stereo Headphone Amplifier
I love this little guy. With multiple hosts you need multiple headphone jacks. My only issue is that it uses the big 1/4 inch connections, so I needed to grab some adapters to make it work with standard headphones.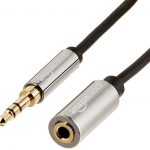 AmazonBasics 3.5mm Male to Female Stereo Audio Cable – 6 Feet (1.83 Meters)
With so many hosts and variations on headphone cord length, it just made sense to grab a few of these extensions so that we wouldn't be stuck huddled around the mixer.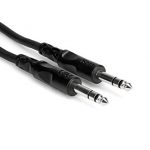 Hosa CSS-105 1/4 inch TRS to 1/4 inch TRS Balanced Interconnect Cable, 5 feet
A simple 1/4 inch to 1/4 inch cable I use to connect the headphone amplifier to the headphone jack on the mixer.
Misc Cables/Adapters/Connectors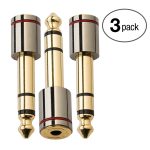 Aurum Cables 3-Pack 6.35mm Male to 3.5mm Female Stereo Adapter
I'm of the opinion you can never have enough of these. I must have 10 rolling around my house. I originally bought the 5 pack from Aurum, but that doesn't seem to be available any longer.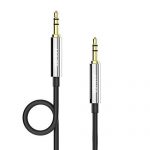 Anker 3.5mm Premium Auxiliary Audio Cable (4ft / 1.2m) AUX Cable for Headphones, iPods, iPhones, iPads, Home / Car Stereos and More (Black)
(4.99)
I might use these to connect to peripherals like phones or PCs, maybe I need another 1/4 to 1/4 or 3.5 mm to 1/4 inch and so I'll use some of those adapters to customize as needed.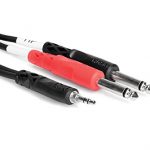 Hosa CMP-153 3.5 mm TRS to Dual 1/4 inch TS Stereo Breakout Cable, 3 feet
This is an interesting little cable. It takes stereo input from a 3.5 mm and splits it into a left and right channel 1/4 inch. I haven't used this much, but sometimes I like plugging my phone in and streaming some Star Trek music into everyone's headphones as we're getting things set up. I'm sure there are more legit uses.
Software


Audacity
Audacity is the only DAW, Digital Audio Workstation, I've ever used. So I can't much compare to anything else. Some insist that the hassle of working with Audacity is not worth your time, but again, I wouldn't really know. I recommend it for starting out just because, well, hey. It's free.
Make sure you make use of the noise removal plugin, and download and install Chris's Dynamic Compressor rather than make use of the built in one.
Those are the only two plugins I use. There are plenty of guides out there, I suggest perusing The Audacity to Podcast for pointers.