Black Mirror 4×01 – USS Callister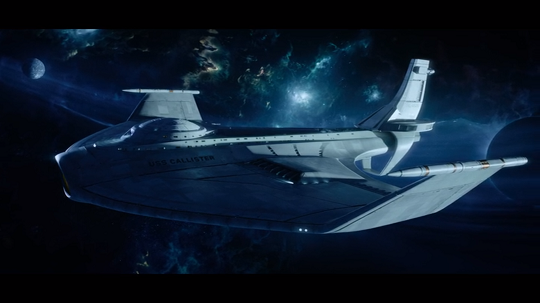 Something a little different this week.
Black Mirror gives us an episode that promises some Trek vibes.
The Federation ship USS Callister, Captained by Robert Daly and crewed by the true withholders of his totally deserved recognition, respect, and admiration, boldly goes where no man has gone before.
Check out the soundtrack for this episode. "Space Fleet" has a good Star Trek The Original Series vibe and "USS Callister: The Next Adventures" is pretty killer. Find it wherever you'd generally buy/stream soundtracks!
Black Mirror – 4×01 – USS Callister
Directed by Toby Haynes
Written by William Bridges
Guest Stars: Jesse Plemons (Robert Daly), Cristin Milioti (Nanette Cole), Jimmi Simpson (Walton), Michaela Coel (Shania), Aaron Paul (Gamer691)
There Are Four Mics is a weekly Star Trek podcast discussing the Star Trek episodes and movies in stardate order. Join Jason Allen and Joe Heiser as we discuss the 1st episode of season four of Black Mirror: USS Callister.