Star Trek Enterprise 2×15- Cease Fire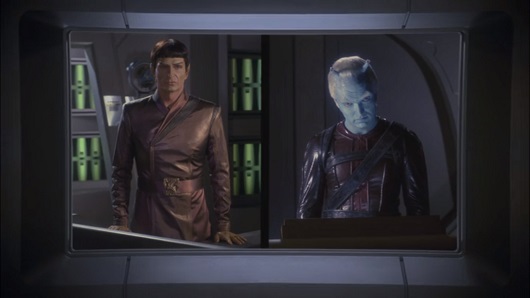 Archer gets himself pulled into negotiations between the Andorians and Vulcans, a task everyone but the plucky captain himself seems to think is a lost cause. We start to see some tenants of the Federation shine through in this episode. Very exciting!
Star Trek: Enterprise 02×15 – Cease Fire
Directed by David Straiton
Written by Chris Black
Guest Stars: Jeffrey Combs, Gary Graham, Vaughn Armstrong, Christopher Shea, Suzie Plakson, John Balma
There Are Four Mics is a weekly Star Trek podcast discussing the Star Trek episodes and movies in stardate order. Join Jason Allen and Joe Heiser as we discuss the 15th episode of season two of Star Trek: Enterprise, Cease Fire.
Subscribe, rate, and review us on iTunes and Stitcher!
Music credits:
Faith of the Heart/Where My Heart Will Take Me – Written by Diane Warren, performed by Russell Watson, Jerry Lubbock, and the New York Trek Orchestra
Archer's Theme – Dennis McCarthy and New York Trek Orchestra